June 27, 2017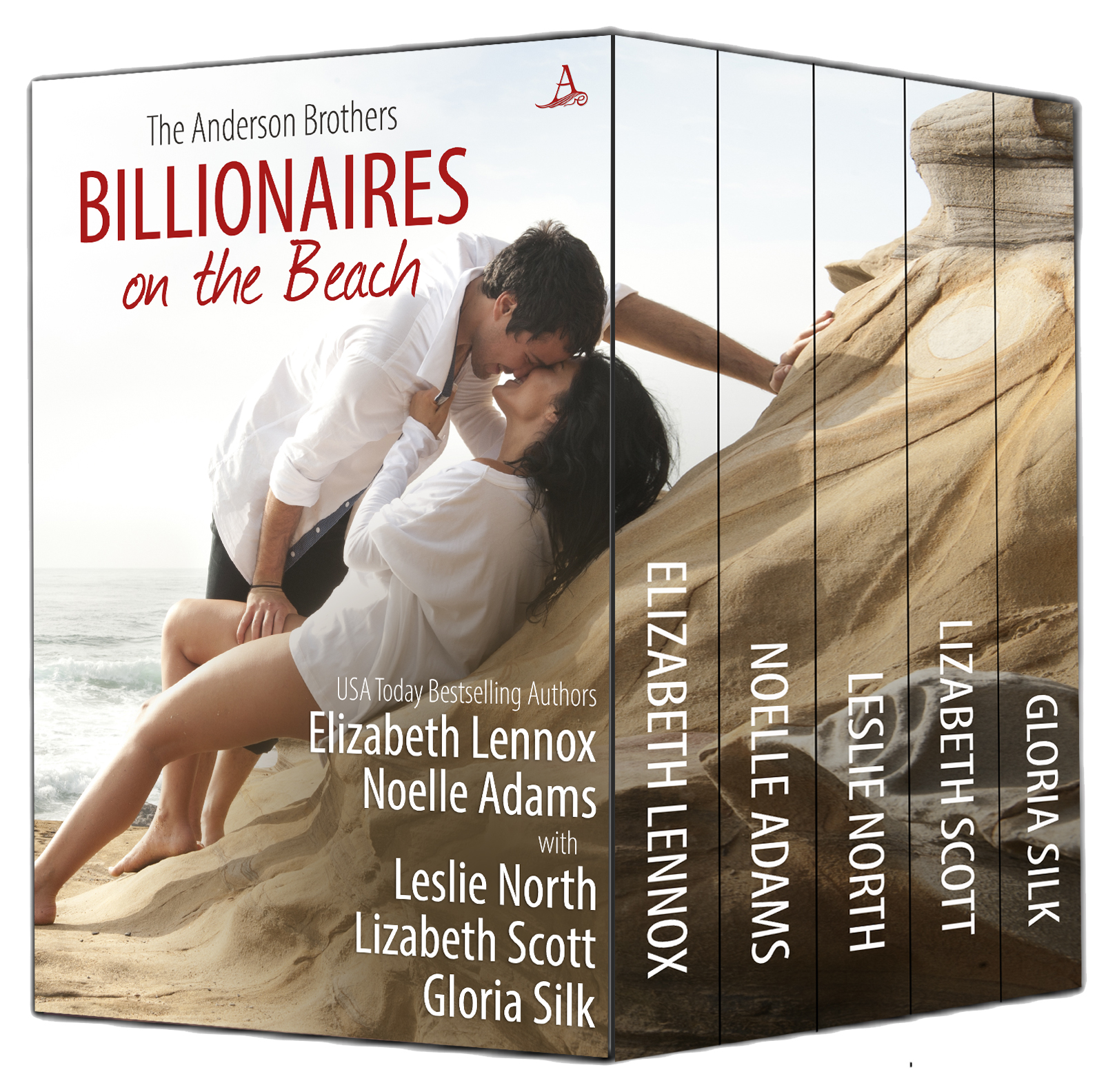 Billionaires on the Beach – The Anderson Brothers – $0.99 
Enjoy hot days and hotter nights on Wrightsville Beach, North Carolina with the billionaire Anderson brothers in this series of five steamy, original novellas from USA Today bestselling authors Elizabeth Lennox and Noelle Adams, as well as Leslie North, Lizabeth Scott, and Gloria Silk.
August 31, 2017:
Nobody's Baby But Mine (previously named Breaking the Chains). This exciting new story is about fidelity, fertility and of course the strong love between man and woman!
More information coming soon!
December 2017
From Geek to Greek Billionaire & Secret Greek Billionairess 
In addition to being part of the above incredible box set Gloria Silk's novella From Geek to Greek Billionaire will be out in end of December 2017 combined with Secret Greek Billionairess.
From Geek to Greek Billionaire by Gloria Silk – Olivia Moore has landed her dream job—to renovate a very special beach house. The last thing she needs is to bump into her teen crush, the geeky yet sexy Alexander Anderson. He needs her to help him with a makeover and an infusion of confidence with women, but getting closer to him means risking he finds out her secret past, which might tear them apart once again.
Secret Greek Billionairess is about an over-protected young English woman who escapes her father to meet her Greek mother whom she had believed dead. Along the way she meets the one and only man whom she will never be able to forget. The gorgeous billionaire playboy, Demetrius Kyriakou.
Happy Reading, and visit this page soon. In the meantime if you would like please
Email Gloria Silk. She would be glad to hear from you.
First and Only Destiny by Gloria Silk  – Click to Buy now!
This debut novel follows the story of Lia Abraham and Devraj Shah, who meet in a London university.
First Love…
It's love at first sketch for shy, sheltered art major Lia Abraham, when she meets the Bollywood-gorgeous Devraj Shah at a London university. But she refuses to show her undeniable attraction to the gregarious genius, who is being groomed for his family business empire. Nothing can stand between her and her dreams of traveling and teaching art across Europe. No taking risks or detours for Lia!
First Kiss…
The last thing Lia needs is a handsome distraction from her true love: art. Although she protests, the charming Devraj, with his dimpled grin and sparkling eyes, convinces Lia to be "just friends".
But inevitably—with one rain-soaked, sweet yet sizzling kiss—their unleashed desire becomes stronger than their cultural divides—a Hindu boy and a Jewish girl? Gods forbid!
As their friendship flares into an all-consuming passion, the growing pressure from both families changes the landscape of both their lives.
Forever love?
Despite loving him to distraction, will Lia's gratitude to her frail grandparents, who raised her, and her loyalty to her cultural ties, force her to forsake the forbidden fruit of her love for Devraj?
Or can she stand up for her first and only love and face their uncharted future head on?
Both novels can be enjoyed as standalone stories with their own happy-ever-after endings guaranteed!
What if you thought you had made the right choice and then regret it?
The Older Generation Broke Them Apart…
Lia Abraham gave up everything for her family and culture—art, autonomy and even self-worth. Worst of all was the sacrifice of Bollywood-gorgeous, idealistic Devraj Shah, when Lia caved in to pressure from both their families. She broke her first love's heart by marrying the "right" Jewish man.
The Younger Generation Reunites Them…
Nineteen years later, minutes after Lia demands a divorce from her cheating husband, her world turns upside down again; Devraj is at her door. His nephew and Lia's feisty teenage daughter are repeating history. They're in love, but the now reserved, enigmatic Devraj is dead-set against the couple's marriage plans. He is convinced Lia's daughter will ultimately reject his nephew the way Lia had rejected Devraj.
After years of feeling caged in a loveless marriage, Lia embraces her newly found freedom, and her resurgent passion for Devraj is irresistible. Once again, she surrenders to the true love of her life, but their affair re-ignites opposition from both families. Will Lia's second chance at love again destroy her loved ones and her dreams?
Torn once again between her love for Devraj, her family responsibilities and her need for true independence, will Lia choose duty over the desires of her heart?
 BUY from Apple – Barnes&Noble – Chapters/Indigo – Amazon: Print and Kindle – Kobo – Page Foundry 
Email Gloria Silk at contact@GloriaSilk.com. And check out Gloria Silk's Top Ten All Time Favorite Books, Movies and Meals. Go to: Top 10 Gloria Silk Style
For more about Gloria Silk go to her post: From Gloria Silk's Desk
Or read Gloria Silk Interview
Save
Save
Save
Save
Save
Save
Save
Save
Save
Save
Save
Save
Save
Save
Save
Save
Save
Save